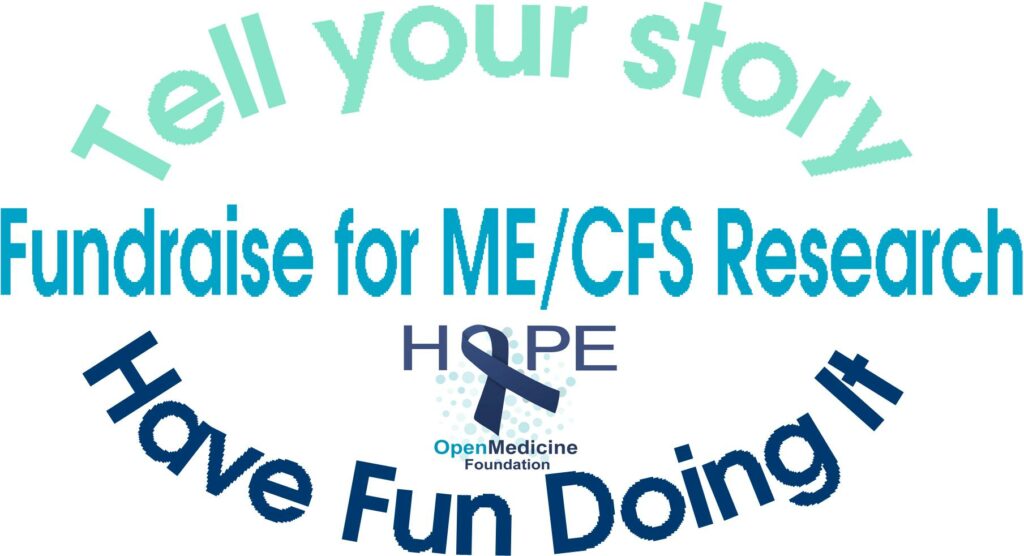 Tell Your Story with a Personal Fundraising Webpage
OMF has a Crowdrise page that is just waiting for you to tell your personal story and setup your own fundraising page. These days, people are raising money doing everything from growing mustaches to shaving their heads to dumping buckets of water over themselves!
Crowdrise fundraising pages are easy to setup and a fun way to share a cause you're passionate about (such as OMF's End ME/CFS Project). All money will go directly to OMF with a maximum of 5% going to Crowdrise for letting us use their software and the merchant fees. Your supporters will receive a receipt acknowledging their 100% tax-deductible donation. We've provided an easy step-by-step guide.
Plan an OMF FUNdraiser with the "Forgotten Plague" Documentary

Released in summer 2015, the "Forgotten Plague" documentary reports the reality, history, and possible future of ME/CFS. We have supported the creation of this film, which highlights Ronald W. Davis, Ph.D., our ME/CFS Scientific Advisory Board director; and his son, Whitney Dafoe.
The video to the right tells how you can arrange for a showing of the movie and that you can use such an event to raise funds for research. We would be honored to have you choose to help fund the End ME/CFS Project to bring a cure closer to a reality.
Read Tugg's information about how to use this for fundraising, then email us so we can work with you.
FUNdraising Event Ideas
We count on people from around the world to help spread the word about our foundation and fundraise to support research initiatives. Across the country, friends and family are running races, climbing mountains, playing in volleyball tournaments, holding cocktail parties, dinner dances, wine tastings, and more. All of these enjoyable activities raise awareness of and dollars for the Open Medicine Foundation. Check out some of the successful FUNdraisers patients and their loved ones have hosted.
You can easily host an event to benefit OMF. It can be a one-time event or lead to an ongoing event. The sky is the limit when planning your event! It doesn't have to be a black-tie affair, but it can be. We recommend choosing a theme based on the interests of your community and your friends and family.
Host a wine tasting event, a bake sale, a holiday boutique, run a marathon, plan a barbeque, bowl-a-thon, or host a Karaoke Night. The possibilities are endless. Just remember to be creative and think fun.
Need a little bit of help? Email us or check out some helpful tips we've learned from experience:
FUNdraising Event Planning "to-do" List
Budget

– To have a successful event you need to begin with setting your fundraising goal and your expense projections. Be as realistic as possible. Set a goal that you can achieve and celebrate.

Date, time, location

– Do your research! Review local community calendars and ask friends and family for ideas.

Format, theme

– Consider your resources and choose the event format that promises the most fun and fundraising potential – from a gala event to a comedy event.

Food, menu

– Meet with a caterer or do it yourself!  Determine pricing and options, like cash or open bar, seated or buffet dinner, etc.  Furthermore, try to tie your menu to any established theme.

Invitations, publicity, advertising

– Determine if your event will be invitation only, or if you will sell tickets to a larger audience. Choose how you will reach out to guests – through a printed or email invitation, through an advertisement in the local newspaper, through an announcement in a school or church bulletin and more.

Reservations, ticketing

– Determine ticket prices, payment options and availability. Decide on the number of open seats, choose if seating will be pre-assigned, and elect to use a guest list or issue tickets.

Setup, cleanup

– Form a committee by recruiting friends and family to assist with the logistics of your event. Determine a timeline for the week and day/night of your event, including tasks and assignments.

Event program

– Consider activities to enhance your event, like an auction or door prize drawing. Local stores may be willing to donate an item to be given away. Feature a speaker that will thank guests for their support and share the story of why the event is being held.

Evaluation

– Reflect on what worked and what didn't work so that other fundraisers can learn from your experiences. Share your thoughts with our CEO/President and serve as a mentor for others wanting to raise money for research through a social event.
Tools for Planning a FUNdraiser