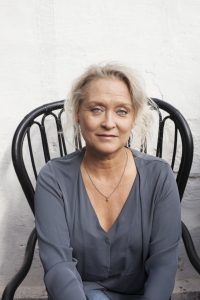 Karin Alvtegen, OMF Ambassador, is one of Scandinavia's most widely read and appreciated authors. Karin is recognized for her psychological thrillers, which include Guilt, Missing, Betrayal, Shame, Sacrifice, and Shadow, and has established herself as a celebrated bestseller worldwide, with her books translated into more than 35 languages. Missing has been made into a praised British mini-series for TV and international producers are adapting some of her other books. She has also won many literary awards, including The Glass Key for Best Nordic Crime Novel, and many more.
In 2013, Karin came down with ME / CFS and was seriously ill. She has since become an active supporter of OMF on Facebook, including fundraisers for OMF. She has been the subject of a book on ME / CFS (in Swedish) titled "Invisible ill – while life passes," and although she can no longer write herself, she has the active support of her family and the ME / CFS community in helping OMF fund research to end this disease.
We certainly know that with Karin's broad popularity in her native Sweden, as well as in Norway, Denmark, and Finland, OMF's reach and message of hope in Scandinavia will be sure to grow.
You can find out more about Karin on her website