Make a donation to Open Medicine Foundation to transform the lives of millions suffering with ME / CFS and related chronic complex diseases
"Give now to create a world free of ME / CFS and related chronic complex diseases. Every gift moves us closer to a cure."
Linda Tannenbaum, OMF CEO
Donate Online
Make a secure online gift to help fund this urgent research via credit card or PayPal. You can make a one-time donation or establish a recurring monthly gift.
Donate to Honor or Celebrate Someone
Do you have someone special that you would like to honor? Make a donation in honor of their birthday, wedding, or other special event, or in memory of. We will inform them of your kind gift (not disclosing the amount).
Donate Monthly
Join OMF's Team OMF as a monthly donor. As a monthly donor, you are helping OMF to plan ahead with the secure knowledge of monthly income to accelerate the pace and scale of research.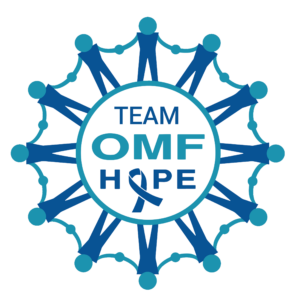 Monthly donor benefits:
Monthly gifts go further to fund critical research as investigations arise.
Monthly donors are in total control. You have the ability to increase, decrease or cancel your pledge whenever you wish.
Monthly donors are helping to advance research to improve patients' lives.
Monthly donors are provided an annual statement in January to assist in tax preparation.
Donate By Mail
If you prefer to write a check, please make it payable to "Open Medicine Foundation" and mail it to:
Open Medicine Foundation
29302 Laro Drive
Agoura Hills, CA 91301
USA
Donate By Phone
We are happy to talk to you. Please call us at 650-242-8669.
Donate By Wire Transfer
Please call 650-242-8669 for instructions.
Donate Your Car
Do you have a car or vehicle you aren't using? Donate it to OMF! CARS accepts donations within the US of cars, trucks, boats, motorcycles or any other motorized vehicles on behalf of OMF, and your donation is 100% tax-deductible. Click here for more information and to fill out the online form.
Donate Stock
Make the most of your donation. Donate your appreciated stock directly to OMF and you can receive an immediate income-tax deduction for the fair market value of the securities on the date of transfer (even if you originally paid much less for them). OMF sells your securities and uses the proceeds for research. You also do not pay capital gains tax on the transfer when the stock is sold. Giving appreciated stock can be more beneficial than giving cash. The "cost" of your gift is often less than the deduction you gain by making it. In advance, thank you for making this generous gift.
Gifting of Stock
Broker: Schwab
DTC #: 0164
Account #: 47083887
Account Registered as:
Open Medicine Foundation
29302 Laro Drive
Agoura Hills, CA 91301
Please speak to your personal tax advisor and then call OMF at 650-242-8669 to notify us of your donation or with any questions.
Employer Matching Gifts
Many companies offer matching gift programs to encourage employees to contribute to charitable organizations. Some provide matching funds to support employee volunteer hours too. Most of these programs match contributions dollar for dollar, and some will even double or triple the amount of your gift! Please check with your employer to see if you can increase the impact of your gift with their match.
If your employer requires an Employer Identification Number (EIN) (i.e. Federal Tax Identification Number), please use 26-4712664.
You may mail or email your completed matching gift form that requires our signature to:
Open Medicine Foundation
Attn: Matching Gifts
29302 Laro Drive
Agoura Hills, CA 91301
donate@omf.ngo
Donate in the UK
OMF is a partner with 
National Philanthropic Trust (UK)
 (NPT-UK)*, a dual qualified charity, to accept UK donations. We have set up an OMF Designated Fund that will immediately transfer all donations to OMF, minus the charitable administrative fees. British supporters may donate to our designated fund at NPT-UK and receive a UK tax receipt.  UK donors will also complete a Gift Aid Declaration. Download the 
Designated_Fund_Contribution_Agreement_(NPTUK)
 to complete your donation.  The minimum gift level for this credit is £2,000 or $3,200 USD. Please 
contact NPT-UK
 directly to make your tax-deductible donation and/or with any questions.
Community Health Charities
OMF is a proud charity partner of Community Health Charities (CHC). CHC is a nonprofit that raises awareness and resources for health and wellness by connecting the most trusted health charities, including OMF, across the United States with more than 17 million caring donors through workplace giving campaigns, causes, wellness programs, employee engagement, and strategic partnerships.  Please designate a gift to OMF in your workplace giving campaign.