STUDY HYPOTHESIS AND DESCRIPTION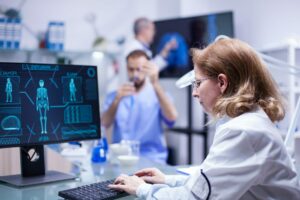 Raman spectroscopy is a non-destructive, rapid, and low-cost technique allows the study of the molecular composition of biological fluids like blood, or inside a cell when combined with confocal microscopy. This innovative approach could lead to the development of diagnostic tools to better stratify ME patients and find the underlying causes of different symptoms like post-exertional malaise as well as clinical tools to validate the therapeutic potential of pharmacological treatments to treat, stop or mitigate ME through precision medicine.
We hypothesize that our approach will allow the identification of a biomolecular signature of ME both at baseline and in response to the application of a post-exertional stress challenge. We expect to stratify patients by differentiating severe cases from mild forms of ME. Results from this study will be further combined to ongoing proteomic and metabolomic profiling approaches to better understand the pathophysiology of ME.