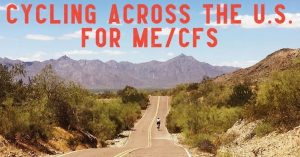 Coast to coast – starting from Astoria, Oregon and riding to Yorktown, Virginia is the daunting Transamerica Trail. Cyclist, Bertus Geertsema, is taking on the trail to ride 4233 miles, climbing over 160,000 vertical feet in the process. Bertus is riding to raise awareness for ME / CFS and fundraise to support OMF's research.  Bertus is an avid rider with a passion for helping others.  In his blog, Bertus shared:
"One of the big reasons I decided to undertake this challenge of riding across the U.S., coast to coast, self-supported was because simply put – I can.
While I'll be on the road, packing up my tent every day, getting on my bike and riding up mountains and through valleys and across plains, there are millions of
people who suffer from an illness that prevents them from riding their bike around the block. That prevents them from being effective at work. That prevents them from getting out of bed in the morning, from having a healthy social life, from having the basic energy that we all take for granted every day."
We invite you to follow Bertus's triumphs in honor of all patients. You can follow Bertus on Facebook @Bertus Geertsema, Instagram  @multiventurist, and his blog.
We are thankful and grateful for caring and compassionate healthy allies like Bertus. Donate to support and encourage Bertus as he travels the TransAmerica Trail.