Swedish Open Medicine Foundation (OMF) supporter Cecilia Ekhem is no stranger to using her pen to bring her experiences with Myalgic Encephalomyelitis / chronic fatigue syndrome (ME / CFS) to life on a page.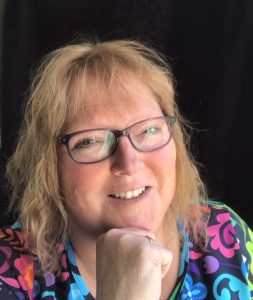 Prior to life with ME/CFS, Cecilia had already published two books in her spare time when she wasn't working as a business developer.
After she developed ME/CFS, however, her ability to write as she knew it abruptly came to an end. Despite the personal tragedy, Cecilia didn't give up—with remarkable resilience, she found a way to continue writing within the confines of a cruel disease that has left her mostly bed ridden.
Since the onset of ME/CFS, Cecilia has written poetry that inspires, gaining thousands of followers, and received the Anders Frostenson scholarship for her hymn texts three years in a row.
In June of 2020, Cecilia published "Weaponless," a novel about "finding your context and awakening the glow of a soul hidden in a limited body" to help raise awareness of ME/CFS and bring comfort and inspiration to other ME/CFS sufferers.
"The title Weaponless is from a poem by the famous Swedish poet Karin Boye. I chose it because life with ME/CFS sometimes feels like entering a war without weapons"
Cecilia explains.
"The book is written from bed with around five sentences a day as headaches and fatigue don't allow more writing than that."
Cecilia's determination paid off.
"The book has received a warm welcome from many readers, both ill and healthy, young and old," she says. "A month after the release, around $800 has been raised through book proceeds for OMF funded research into ME/CFS. There is also information about OMF on the cover."
OMF sends our gratitude to Cecilia and all those in our community who use their creative talents to help us raise funds and awareness. We are incredibly inspired by all of our supporters that have done and continue to do incredible fundraisers, including publishing books and articles. We are so lucky to have you in our OMF family!
Visit Cecilia's website to learn more.