TECHNOLOGY DESCRIPTION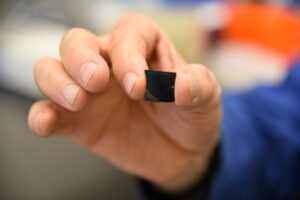 The nanoneedle biosensor is a cost-effective, versatile, ultrasensitive and high-throughput nanoelectronics device. This device measures the electrical impedance of cells from a single drop of blood.
TECHNOLOGY DEVELOPMENT
This test is able to distinguish ME/CFS patients from healthy controls.
An analysis of over 40 ME/CFS patients and controls has established that cells from the blood of ME/CFS patients exhibit a characteristic impedance pattern when subjected to salt stress that is significantly different than the controls.
Future tests of this device will be made to:
Determine if differences are observed between ME/CFS patients and other related diseases.
Whether impedance signals are indicative of illness severity by testing a series of patients at altered severity.
To test candidate drugs to see if the salt stress impedance signal can be returned to healthy control levels, revealing the potential of the nanosensor array platform for use in drug screening.