STUDY HYPOTHESIS AND DESCRIPTION
"Those of us working on the IDO metabolic trap hypothesis for ME / CFS are really interested in the study proposed by Dr. Bergquist and his team in Uppsala, and recently funded by OMF. Here's why:
Suppose that some brain cells in a particular brain nucleus are in the IDO metabolic trap. This means that in those cells the concentration of tryptophan is too high, and the concentration of kynurenine is too low. Supplying an outside source of kynurenine, as Dr. Bergquist proposes, could conceivably solve part of the problem by allowing those brain cells to make the neuroactive metabolites of kynurenine that they cannot make if the metabolic trap has been sprung.
So, the clinical trial might improve symptoms caused by too little kynurenine or too little kynurenic acid, a known neuro-protectant. Dr. Bergquist's expertly designed clinical trial of kynurenine in ME / CFS to improve brain fog, memory, and headache is both important and timely."
– Robert Phair, Ph.D. The Metabolic Trap
OBJECTIVES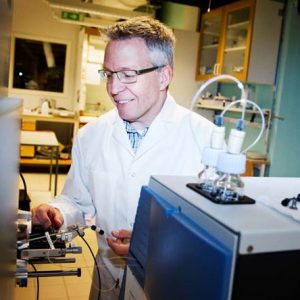 Participants will be randomized to either receive Kynurenine or a placebo for a period of three months and then after a "washout" period, patients will switch to an additional three-months of Kynurenine or placebo in a crossover design.
This design does not require healthy controls and instead focuses on whether Kynurenine supplementation has any benefit above placebo in people with ME / CFS.
The main study endpoints will be the effects of supplemental Kynurenine to improve cognitive impairment ("brain fog"), memory and headache. Patients will also be asked to register their activity by using wearable sensors and have biological samples taken for further testing.
New methods have been developed under Dr. Bergquist to measure the metabolic pathways relevant to Kynurenine. These new methods are used to identify people with ME / CFS that have low Kynurenine in the plasma. This method will also be used to monitor the metabolic effects of Kynurenine supplementation during the trial.