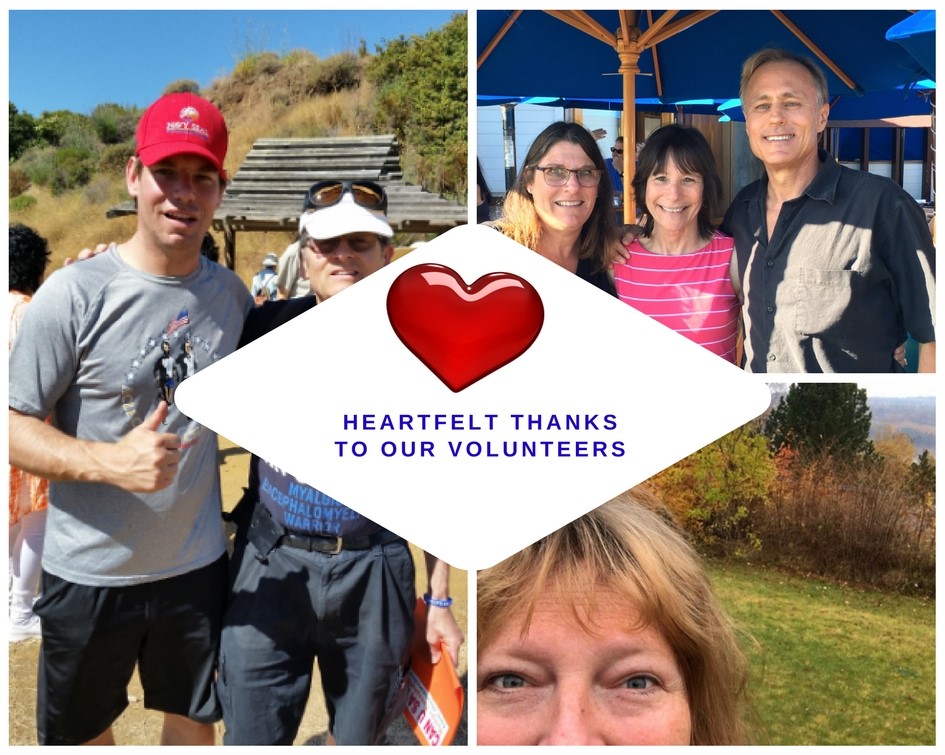 OMF volunteers contribute to our mission in many valuable ways.
Volunteers help with community building around the world, education, outreach, website development and optimization, communications and so much more. Our volunteers provide direct support and have a tremendous impact. We are very grateful to the many people who donate their valuable time to help OMF grow and succeed. All of our volunteers share their pride in working to find a cure for Myalgic Encephalomyelitis / Chronic Fatigue Syndrome (ME / CFS) and related chronic, complex diseases.
If you have an area of expertise you would like to share with OMF, we would love to hear from you.
Please complete this form and let's begin exploring how you can help make OMF even stronger.
We are honored to highlight some of the dedicated, invaluable individual volunteers who help us shine. Whether you are listed here or chose to remain anonymous with your volunteerism, the OMF family thanks you!
Bobbi Ausubel, California, USA- Bobbi Ausubel, OMF Community Ambassador, is a staunch parent advocate for ME / CFS. Since we began, Bobbi has been a steadfast supporter of OMF. Bobbi actively seeks partners to increase support for research. Bobbi is also the co-Founder of Family Friends Allies of ME (FFAME).
Shari Boxer Baker, California, USA — OMF Community Ambassador, has a boutique PR agency in Silicon Valley which she founded in 1989; JDS Group PR. She has served on numerous nonprofit Boards including the Tech Interactive, the Silicon Valley Organization and the Humane Society of Silicon Valley.  Prior to founding the PR agency, Ms. Boxer Baker worked in politics and government, serving on the staffs of the Mayor of San Jose and as a Congressional Aide to Congressman Norman Y. Mineta. She has had ME / CFS since 2013.
Carol Broadbent, California, USA — OMF Community Ambassador, is an active ME / CFS parent and Marketing Agency Business Owner. Carol has held Marketing leadership roles in technology companies in Silicon Valley, both publicly traded firms and scrappy startups. She has also served on the boards of education foundations based in the SF Bay Area. Carol is a big believer in lean teams making things happen. She is an avid supporter of reversing the decades of misinformation and underfunding of ME / CFS. Her daughter was stricken with ME / CFS in 2006.
Mark Camenzind, California, USA – Mark Camenzind and his wife Dorothy have supported OMF since their son Tom–a happy, healthy, straight A Stanford Student in January 2014–got an unknown illness that ended up triggering a case of Severe M.E.  He is now bedridden, unable to talk, chew, tolerate any light or sound.  A very promising career for a wonderful person was derailed, hopes dashed.
"We are huge advocates to understand, better diagnose, and treat ME ("CFS") for both Tom and 17,000,000 approx worldwide.  OMF funded the crucial severe M.E. study.  We look forward to seeing the results and insights gained for these 20 patients. Linda Tannenbaum even visited our home to see Tom, showing her true compassion for patients with M.E.  We look forward to finding more funding for ME (CFS) R&D and then someday (soon!), effective treatments then cures for M.E.  One highlight this year was touring Prof Ron Davis Human Genome Technology Center at Stanford with my Congressional Rep Eric Swalwell.  He also signed a letter to NIH director Francis Collins with a total of 55 reps seeking NIH ME plan update.  We hope you can get to know your representative and help them also represent M.E. "
Fabio Cecchinato, Padova, Italy – "As a translator, I am happy to collaborate with OMF for our many Italian patients who don't know English. I also made a little donation to OMF to encourage research on Myalgic Encephalomyelitis / Chronic Fatigue Syndrome (ME / CFS) and hope we'll soon have a therapy. I'll be always grateful for all the staff of OMF in their struggle to defeat ME / CFS."
Mary Dimmock, Connecticut, USA – Mary retired from the pharmaceutical industry shortly after her son became ill with ME / CFS in 2010. Mary has put tremendous efforts into advocating for government support of research. She is the author of Thirty Years of Disdain, an in-depth analysis of the history—and lack of government response to—this disease over the last thirty years. Recently, Mary co-authored Estimating the disease burden of ME / CFS in the United States and its relation to research funding to highlight the magnitude of under-funding on this disease and to encourage NIH and the US government to increase research funding. Mary is leading OMF's Pediatric Education program.
Cecilia Ekhem, Sundsvall, Sweden – Cecilia, OMF Community Ambassador, is the author, poet, and artist. "I started to write short poems and publish them on Facebook and Instagram—simply called Ekhemmanet. People started to ask about purchasing my poetry–I decided to sell them for charity. I chose OMF as a recipient of sales because #EndME / CFS Project had just launched and the focus of OMF made me sure that this is the research that one day will give me back my health. I am so grateful to the OMF Family of researchers, patients, and physicians—that are working for a better future."
Ryan Fugger, Canada – Ryan acquired CFS after a viral infection in 2001. Since then he has worked freelance and part-time as a math tutor, software developer, and currency system designer. He founded the Ripple decentralized payments project in 2004, and despite being unable to continue developing it for health reasons, he is lucky to have it carried on by some very talented people. Ryan helps OMF create strategies to keep the website running smoothly. He considers its excellent use of his limited energy!
Geetanjali, California, USA – Geetanjali, OMF Community Ambassador, sparked the first wave of fundraising activity for OMF. She hosted one of the first fundraisers for ME / CFS where she organized a panel of leading researchers to speak about the current work in the field. She has written articles to raise awareness for ME / CFS that have been published on various websites.
Amelie Hicks, California, USA – Amelie Hicks, OMF Community Ambassador, is a zealous advocate for OMF's research and ME / CFS awareness. Amelie was first impacted by ME / CFS at age 5, when her mother, who had long been sick, was first diagnosed with the disease.  Her younger sister was next diagnosed with ME / CFS in 1994 at the age of 9.  Amelie was diagnosed with ME / CFS in 2016.  Being one of three immediate family members with Myalgic Encephalomyelitis / Chronic Fatigue Syndrome (ME / CFS), and it having had such a presence and toll on the vast majority of her life, Amelie has felt all the more empowered to engage those around her to learn about, support and fund OMF and its mission of finding a cure, not only for herself, her mother and sister, but for all those out there suffering and whose suffering she knows far too well.
Martin Hippe, Germany – Martin Hippe,  OMF Community Ambassador, is helping to raise awareness and expand fundraising. Before becoming ill, Martin practiced as a German Lawyer, specialized on Entertainment Law, here mainly focused on the legal and business-strategic advice of celebrities from Germany. He also worked as a music producer. Martin recently founded a Charity Label, called "Esperanza Rec." In contrary to other labels, Esperanza donate all its revenue to Open Medicine Foundation. Neither him nor the singers, instrumentalists or any another person involved will be paid – it's all for the research in ME / CFS.
Ben Howell, London, UK – Ben volunteers as OMF's Correspondent on Phoenix Rising sharing news and resources. "Growing up in the UK, I was a University Fitness Manager and Natural bodybuilder before becoming ill with ME / CFS in 2011. Having been interested in ME / CFS research since becoming ill, OMF caught my attention in 2015. Since having learned more about OMF and the extraordinary team involved, I have become a correspondent for them on the Phoenix Rising Forums.
"I love volunteering because I truly believe in OMF's vision, research, and future plans and am always excited to inform other patients of the progress they are making! I am so grateful for OMF, and to be a small part of the team!"
Barbara Lanciers, New York, USA – Barbara Lanciers, OMF Community Ambassador, is the director of the Trust for Mutual Understanding (TMU), a private foundation that funds professional exchanges in the arts and environment conducted in partnership with institutions and individuals in Central, East, and Southeast Europe; the Baltic States; Central Asia; Mongolia; and Russia. Barbara is a former company member and choreographer for Two-headed Calf in NYC (2008 Obie grant recipient and a resident company at La MaMa E.T.C.). Her original theater piece, Leaves with a Name, based on her grandmother's emigration from Hungary in 1944, premiered at the Peabody Institute under the artistic guidance of renowned choreographer Martha Clarke. Barbara was a Fulbright Scholar with the Hungarian Theatre Museum and Institute and has written independent articles on American performance for Szinhaz Hungarian theater magazine and Didaskalia Polish theater magazine. Barbara studied extensively with the SITI Company and served as Anne Bogart's assistant on the SITI production of Death and the Ploughman. Barbara is the director and co-creator of Kaddish, a staging of Hungarian Nobel Prize-winning author Imre Kertész's novel Kaddish for an Unborn Child. She is currently working on a book titled 1000 Coming Outs, which she workshopped at the 2018 Tin House Winter Workshop under the mentorship of Myriam Gurba and the 2019 Tin House Winter Workshop under the mentorship of Elissa Washuta. She also participated in the 2018 Tin House Craft Intensive Prose that Thinks Like Poetry with Pulitzer Prize-winning poet Gregory Pardlo. Barbara is helping OMF to expand awareness and increase fundraising.
Art Mirin, California, USA – Art Mirin, OMF Community Ambassador, is a retired applied mathematician whose daughter has had ME / CFS since 2004. He co-authored Estimating the Disease Burden of ME / CFS in the United States and its Relation to Research Funding, which contains a statistical analysis showing that annual NIH funding for ME / CFS needs to be increased to roughly $200 million to be commensurate with its disease burden. Art advocates on both the federal and state levels. He is currently working toward California providing support for treatment of ME / CFS patients and the education and training of healthcare professionals. One of Art's main national priorities is the formulation of a strategic plan that would significantly increase research dollars and provide much-increased funding to the states for education and treatment.
Cindy Siegel Shepler – Tennessee, USA – Cindy Siegel Shepler, OMF Community Ambassador, is a steadfast supporter of OMF. Cindy has led the way building bridges to raise awareness for ME / CFS and OMF. From lighting up the local bridge blue for May 12th International ME / CFS Awareness Day to championing the OMF to the national ACBL community, Cindy thinks outside of the box to shine the light on patients and the urgent need for research funding. Cindy has battled ME / CFS and related diseases for nearly her entire life. Before her disease rendered her unable to continue working, Cindy had an accomplished career in the insurance sector. Read more about how Cindy built the ACBL relationship here.
Rivka Solomon, Massachusetts, USA – Rivka Solomon, OMF Community Ambassador, is a writer and ME advocate living in Massachusetts. She has published articles about ME, worked with healthcare and women's organizations, and organized demonstrations in support of patients' rights.
Valentina Viganò, Rome, Italy –  Valentina was housebound with Myalgic Encephalomyelitis / Chronic Fatigue Syndrome (ME / CFS) for 4 years. During that time she made ends meet by translating from bed until she gradually improved and was able to return to a full-time lifestyle. Her remission/recovery remains a mystery to her. She is thankful every day for her second chance but she shared that she lives in fear of a relapse, as well as with a sense of survivors' guilt. Working with OMF as a volunteer translator is her way of giving back. She fervently hopes that OMF's groundbreaking research is shared as quickly as possible to other countries such as Italy, where ME / CFS is not recognized as a disease.
Retha Viviers, South Africa – OMF Community Ambassador – Retha is the founder of ME / CFS Foundation South Africa. She is a community builder and leader. Retha is a strong promoter of OMF in South Africa including developing a very successful Carte Blanche episode on ME / CFS which featured Linda Tannenbaum and Ron Davis.
Corporate Partners